The Volkswagen Atlas Ends the Trend of Cramped Three-Row SUVs
As the first three-row SUV for the brand, the Volkswagen Atlas lives up to all the hype and praise that it is getting. The interior size and quality is one of the most impressive that you will find, and when you pair the performance and safety that it brings, the Atlas is a clear winner. It does everything that you could need from an SUV making sure your life is as easy as it can be. Coming into the three-row SUV segment was a bold choice, seeing how many manufacturers already have established vehicles there, like the Honda Pilot, Kia Sorento, Toyota Highlander, and the Hyundai Santa Fe, but the bold Atlas does more than enough to be a contender. Volkswagen seems to want more than just a vehicle in this segment, it wants to have the vehicle at the top.
See All Volkswagen Atlas For Sale
Bigger is Better, Right?
The Atlas is a recognizable vehicle, bringing the Volkswagen design to a larger scale. It manages to be recognizable while still being unique, it broadens the face to provide a stronger look, accommodating the capabilities of the vehicle and to really highlight the durability of it. The look evokes what you can expect from the vehicle, no matter which trim you go with.
A comprehensive list of your choices will include: Atlas S, Atlas V6 S, Atlas V6 S with 4MOTION, Atlas V6 Launch Edition (limited), Atlas V6 Launch Edition with 4MOTION (limited), Atlas V6 SE, Atlas V6 SE with 4MOTION, Atlas V6 SE with Technology, Atlas V6 SE with Tech. and 4MOTION, Atlas V6 SEL, Atlas V6 SEL with 4MOTION, and Atlas V6 SEL Premium with 4MOTION.
Now, for those of you who skip or skim lists, what this breaks down to is the main choices - Atlas S, Atlas V6 S, Atlas V6 Launch, Atlas V6 SE, and Atlas V6 SEL - with a tech, premium, or all-wheel-drive option. As most models that include every option, the Atlas can get a tad pricey, but if you are choosing every option and the package with the highest price tag, you will reach close to the $50,000 point.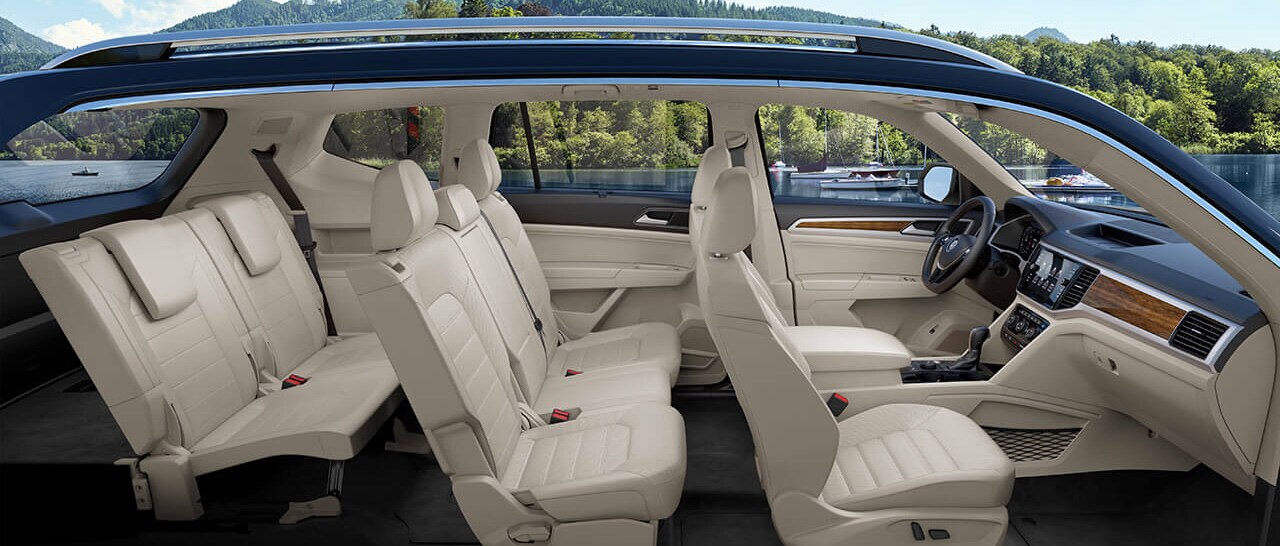 Spacious Seating for All
With three rows of seating in a 2-3-2 configuration, making room for seven passengers, it is important that none of them feel cramped or it will make for a very long ride. The Atlas accounts for every dimension, ensuring your legs, shoulders, heads, and elbows have the room that they need. Volkswagen was so concerned about the room for everything that goes into the vehicle that they even made room for extra cups. That's right, each passenger can now have roughly 2.43 cups at a time in the Atlas; you are left to decide how the fractions get split up, but the Atlas includes 17 cup holders for your seven passengers.
The middle seats are designed to accommodate the needs of families with child seats. You can fit three child seats in there, allowing the row to bend and slide without having to remove those seats. Convenience is key, and the Atlas is designed for it. For instance, you can get an Atlas with six seats, replacing the middle row with Captain's Seats if you don't see a need for seven passengers in your life.
See All Volkswagen Atlas For Sale
Smart Interior Design
With the diverse array of features, many SUVs tend to stretch the dash to the point where drivers struggle to reach buttons on the other side, but the Atlas prevails as convenient yet again, offering all of the controls within reach of the driver. The Multi-functioning steering wheel even puts a majority of the control in your hands, literally. Whether you are trying to control the audio, vehicle information, smartphone integration, or whatever, you won't need to disturb a passenger to do what you need, you'll be able to get it done yourself.
Convenience is important, but comfort is too, which is why the Atlas features an available heated steering wheel, a memory driver's seat, heated front and rear seats, and a panoramic sunroof that takes over the entire roof of the vehicle.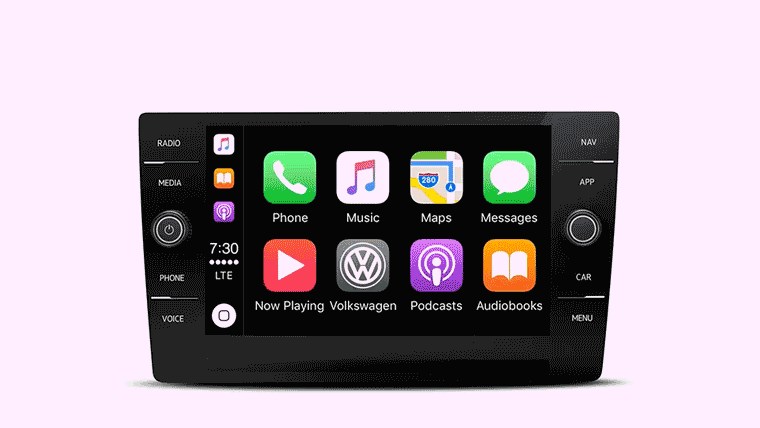 Performance and Safety
The interior of the Atlas is impressive, if you haven't gotten that point yet, but that isn't the only aspect that should get attention. The 2.0-liter turbocharged four-cylinder engine puts out 235 horsepower and 258 pound-feet of torque, with an upgrade available to a 3.6-liter V6 making 276 horsepower and 266 pound-feet of torque. If you get the proper equipment, and the 3.6-liter V6, you are able to tow up to 5,000 pounds, topping what some of the smaller pickups are capable of. As mentioned earlier, if you opt for a 4MOTION® model, you will get the advantages of 4MOTION® All-Wheel Drive.
Safety is an important factor when you could be hauling up to seven people, and the "Safety Cage" in the Atlas, which redirects energy from an accident away from passengers, is a great feature to include. The likelihood of needing such a tool is pretty low though, thanks to all the safety innovations that Atlas has available. Features like Front Assist, Adaptive Cruise Control, Blind Spot Monitor, Lane Assist, and Light Assist (Automatic High Beam Control) are constantly making sure you don't get too close to other drivers, warning you if the likelihood of an accident is high.
See All Volkswagen Atlas For Sale
If Our Feelings Weren't Clear...
The Atlas is an impressive vehicle on all fronts. It has a familiar, yet renewed, design, performance and safety that drivers crave, and a spacious interior: there really isn't much more to ask for.
---